07 May
Pearls are some of the most sought-after jewels in the world. While freshwater pearls are instantly recognizable, other types of pearls are even rarer. An orange Melo pearl is a perfect centerpiece for any gold jewelry. As a precious stone, the worth of Melo Melo pearls is rising by the day.
The Melo Melo pearl (also known as the Dragon Pearl) is being hailed as the world's most valuable pearl. It's a stone that is catching record-breaking prices with an intricate pattern that looks like flames dancing across the pearl's surface.
The worth of a Melo pearl comes from its rarity and its natural beauty. It takes decades for a Melo snail to grow one of these pearls to a wearable size. If you're fortunate enough to find an orange Melo pearl, count your lucky stars.
If you want jewelry to set your brand apart, look no further than Melo Melo pearls. At Play with Diamonds, Melo Melo pearls are amongst our rarest gemstones. Our extensive catalog of products includes Melo Melo pearls for sale. You can contact our team directly for more details about our Melo Melo pearls.
We're diving into the world of Melo Melo pearls to share with you everything you need to know about these rare pearls.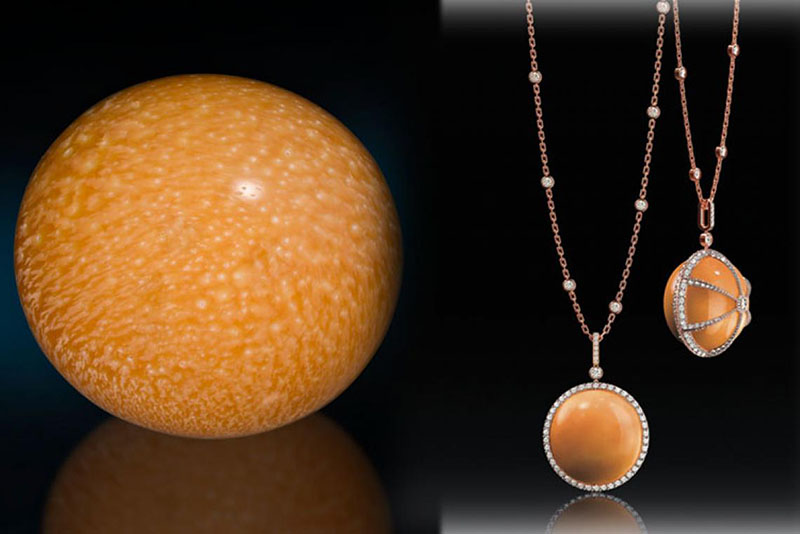 What are Melo Melo Pearls?
Melo Melo pearls come from a marine species known as 'Volutidae', nicknamed the Melo snail. The pearls that come from the Volutidge range in color from brown to tan, with orange being the most sought-after color.
You'll typically find Melo Melo pearls harvested in the Andaman Sea off the Burma coast and the South China Sea. The Melo pearl can also be found in Cambodia, Thailand, Myanmar, and Vietnam.
It's not just their stunning color that makes orange Melo Melo pearls so sought after. Unlike most pearls, Melo Melo does not contain nacre. Instead, these gem pearls are made with calcite and aragonite, producing a glazed effect that looks like a flame.
Another characteristic of the Melo pearl is its porcelain-like texture and smooth feel. It's similar in appearance to the conch pearl but with its signature flame pattern. While the luster of a Melo pearl can fade – like any pearl – it's easy to polish it back to its former glory.
Why is Melo Melo Pearls So Rare?
Saying that Melo pearls are 'rare' is an understatement. They take decades to grow within the Melo sea snails, with the most sought-after pearls being those that are large with a porcelaneous luster and warm orange undertones.
The exotic nature of Melo Melo pearls meant that their worth was skyrocketing. These Melo Melo are some of the most sought-after gem pearls. They take decades to grow and develop into a wearable size, eventually forming a pebble or oval shape.
Much like the Queen Conch snail, the chances of finding a Melo pearl are relatively low. There's a one in several thousand chances of a Volutidge producing a Melo pearl.
The rarity of Melo Melo pearls makes them a popular choice for fine jewelry. Gold jewelry is a common setting as it helps to accentuate the warm undertones of orange Melo Melo pearls. As a naturally occurring stone, Melo pearls cannot be immolated in a factory like lab-grown diamonds.
The worth of a Melo pearl only rises when you consider that about 1% of these pearls have a flame-like pattern that dances across the stone's surface.
What to Know About Melo Melo Pearls
If you clicked on this article, the chances are that you're considering adding Melo pearls to your jewelry range. While most pearls are measured by their size using millimeters, Melo pearls are measured the same way as diamonds using carat weight.
When you're comparing Melo pearls, you want to pay attention to the flame pattern of the stone. In certain lights, some will give the illusion of a cat-eye effect. The flame structure will determine the worth of the Melo pearl.
No two Melo pearls are the same. Like any pearl, the beauty of the orange Melo pearl is in its individuality. Just like diamonds, there isn't a set price for Melo pearls – it all depends on the characteristics of the stone. A Melo pearl sold at Christie's auction house for $722,500 in 2010 – putting these stunning pearls on a par with diamonds.
It's not always easy to get your hands on Melo pearls. They've quickly become a collector's item, like colored diamonds and other gemstones. At Play with Diamonds, our team will give you access to some of the best Melo pearls on the market.
Melo pearls are becoming increasingly popular. Town & Country called the stone "the rarest pearl of all" after Tiffany & Co used a 95-carat Melo pearl stone as part of its 2021 'Colors of Nature' collection. With jewelry houses like Tiffany's adopting the Melo pearl, it's only a matter of time before it breaks into the mainstream.
Just like Tiffany's, you could choose to set your Melo pearl in a 14 or 18k gold setting.
Why You Should Choose Melo Pearls
If you're a jewelry brand looking to set yourself apart from the competition, you want to look into the prospect of Melo pearls. They're the perfect choice to build your niche within the jewelry industry.
Melo pearls quickly become an alternative to traditional fine jewelry, such as diamonds and freshwater pearls, with their stunning flame pattern and bold color. As one of Bangkok's leading gold jewelry manufacturers, we follow sustainable jewelry practices using recycled gold and conflict-free diamonds.
Our contemporary designs are ideal for incorporating Melo pearls to showcase the stone in all its beauty. An orange Melo pearl can be incorporated into a range of settings, from simple pendants to stackable bracelets and stud earrings.
At Play with Diamonds, we can help you elevate your jewelry range with Melo Melo pearls. Get in touch with our team today to learn more about our Melo pearls for sale.